Our Founder
The Story of Bob Johnson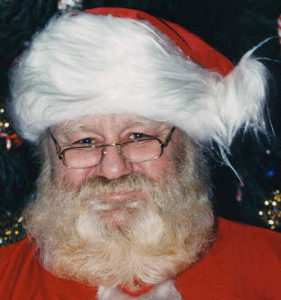 In 1983, Bob Johnson began The Spirit of Christmas, a charity designed to fight the despair that can be found even during the most joyous time of the year – Christmas.  The Spirit of Christmas was built on the motto of "Loving, Caring and Sharing," which remains the organization's motto today. Bob believed in Christmas beyond material goods, he believed in the spirit that Christmas brings.
These are action words and Bob's ideas always generated plenty of action and in doing something about it.
Bob wanted to give his daughters something positive to think about on Christmas Eve – so he rounded-up a Santa suit, a couple of small gifts and took his girls to cheer up a troubled family and his daughters.
Seeing the tremendous joy he brought to this family, Bob went looking for other families who could use a visit from "Santa" to brighten up their Christmas Eve.
A few years later the name was changed to "THE MAGIC OF CHRISTMAS" And is to this day, from the idea from BOB, it has gone on to be realized in some form or another in many other city's and even country's.
Copyright 2013 The Magic of Christmas. All Rights Reserved. A Non-profit Charitable Society #139636369